Take Action: support the rights of stand up paddleboarders
Stand Up Paddling (SUP), surfing, and the watermen and waterwomen community nationwide say:
"

NO

" to federal, state and local agencies imposing unnecessary and unsafe regulations on sup. We are challenging the requirements of life jackets and classifying stand up paddleboards as "vessels" in our oceans, rivers, lakes and streams. (learn more)
We the undersigned, say NO to federal, state, and local agencies imposing unnecessary and unsafe life jacket regulations on SUP, and classifying stand up paddleboards as a "vessel" in our oceans, rivers, lakes, and streams.
90 have signed. Let's get to 1,000!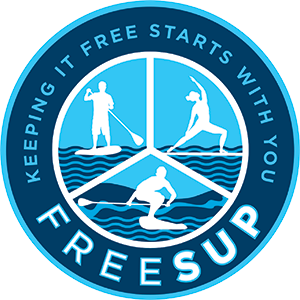 In a letter dated October 3, 2008, the United States Coast Guard, at the request of the Oregon State Marine Board, made a unilateral determination, without public input or participation, on the vessel status of paddleboards. In the memorandum, it was "determined that, when beyond the narrow limits of a swimming, surfing or bathing area, the device known as a 'paddleboard' is a vessel under 46 U.S.C. § 2101, and subject to regulations administered by the U.S. Coast Guard and its Office of Auxiliary and Boating Safety, unless specifically exempted."
The Coast Guard's 2008 letter bypassing the legislative rulemaking process purports to require SUP to meet federal life jacket carriage requirements. However, Title 33 Code of Federal Regulations, Part 175, Subpart B does not adequately address carriage requirements for SUP.  Specifically, these regulations wholly fail to address the unique attributes of SUP that make a the option of carrying a life jacket or wearing a leash safer than mandatory life jacket wear or carry.
The non-profit FreeSUP SoCal is working to stop the special interest movement that is lobbying the local, state and federal agencies to impose unnecessary and unsafe life jacket regulations on SUP. By classifying the stand-up paddleboard as a "vessel," many requirements could be put upon the SUP rider including: wearing a Coast Guard certified life jacket, carrying with you a whistle or noise device while on the board, and carrying a flare gun or flashlight while out in the dark. These requirements are arbitrary, likely to create a dangerous situation, and should be left up to the individual's discretion depending on the environment in which they are paddling. 
FreeSUP SoCal has also worked with the Coast Guard to ask that the Code of Federal Regulations be amended to allow for stand up paddle boarders to have the option of either carrying a life jacket OR wearing a leash.  This has not been officially acted on, but the Coast Guard and National Boating Safety Advisory Council are working on so-called "equivalency standards" that would make this possible.
The very minimal statistics presently available demonstrate SUP continues to be one of the safest water–based activities, even though the number of people enjoying SUP has increased more than any other paddle sport in recent years. We should not stand idle and allow the government to regulate a watersport that has been shown to be inherently safe. Available data suggests life jackets can actually increase SUP dangers in certain conditions. Indeed, the very reason surfers are not required to wear a life jacket is due to the significant threats to safety a life jacket presents.